I've often flirted with the idea of getting a print server.  Imagine not having to go downstairs to pick-up print jobs.  Or not having to run an old box with its cacophony of fan and ancient hard drive.  Just imagine...
Well, we're moving.  And one thing I'll have in the new place (hey, you get what you want when you design it yourself) is a network drop in the pantry.  So it finally made sense to buy one.
At work they have lots of HP JetDirect boxes, which, for whatever reason, never work.  After researching my options I clicked BUY! on this little number: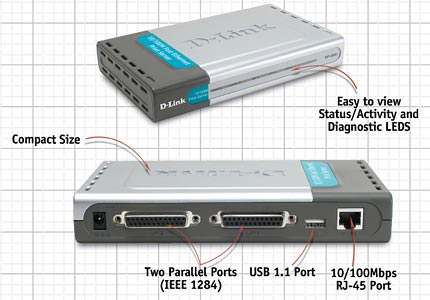 The D-Link DP-300U to be exact.  I ordered it on Sunday for a song and it was here on Tuesday.  Aside from having to change the default IP address (careful, there's no hard-reset button, so make a mistake and you've got a paper weight!) it "Just Worked."  I could cry.  My HP LaserJet 1100 has never been happier and I'm clicking print and picking up the jobs on the same floor.  The same floor!  Imagine.